Chris Fitcher and Dean Hampel from Localing Private Experiences – authentic and local experiences, participated in AIME for the first time this year and secured a place on the Melbourne Stand.
We asked them to share their thoughts about the event.
Q: What was your overall experience of AIME?
A: Loved it! As first timers it was a pilot run for us, and we both thoroughly enjoyed it. Exhibitors and buyers, as well as hosts were all so friendly & helpful! The exhibition including the Melbourne Stand was designed really well and our interactions with buyers was very beneficial. The networking events as part of AIME were also a lot of fun and great to be a part of.
Q: How was the experience of exhibiting at the Melbourne Stand for the first time?
A: Really good. We were placed in a great location and the support from the MCB team was second to none. Being in the industry for quite some time it was nice to see a lot of familiar faces around!
Q: Did you take advantage of the networking opportunities? If, so what did you think of those events?
A: Yes. Although it was nice to have a little breather on occasion, our booth was consistently visited throughout the networking sessions, so we didn't have to go out searching! This was really beneficial and some of our best meetings were held during these times.
Q: How would you rate the quality of your stand appointments?
A: Really high. As most of our business is rather long lead, I'd say approximately 80-90% of all our appointments were beneficial in some capacity. We expect to receive ROI on approximately 60% of these appointments within 12 months.
Q: Anything else you want to highlight about AIME 2019?
A: The support from the MCB team in the lead up and during the event was really very helpful. Thank you.

Get involved on the Melbourne Stand for AIME 2020 - click here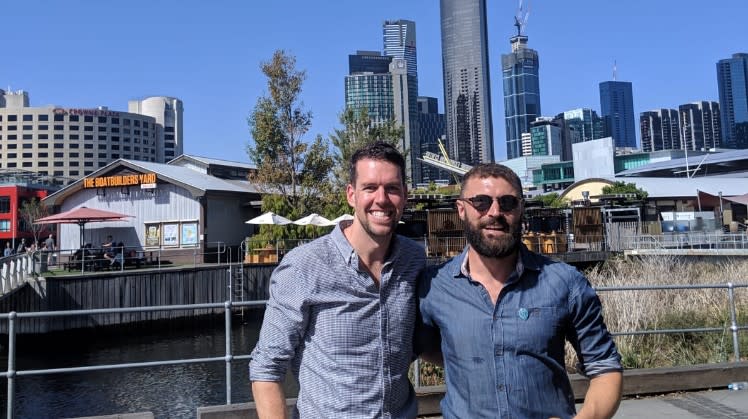 Pictured: Chris Fitcher and Dean Hampel from Localing Private Experiences