Melbourne Convention Bureau (MCB) has today launched a new social media competition for hosted buyers and visitors during the Asia-Pacific Incentives and Meetings Expo (AIME) titled #UncoverMelbourne.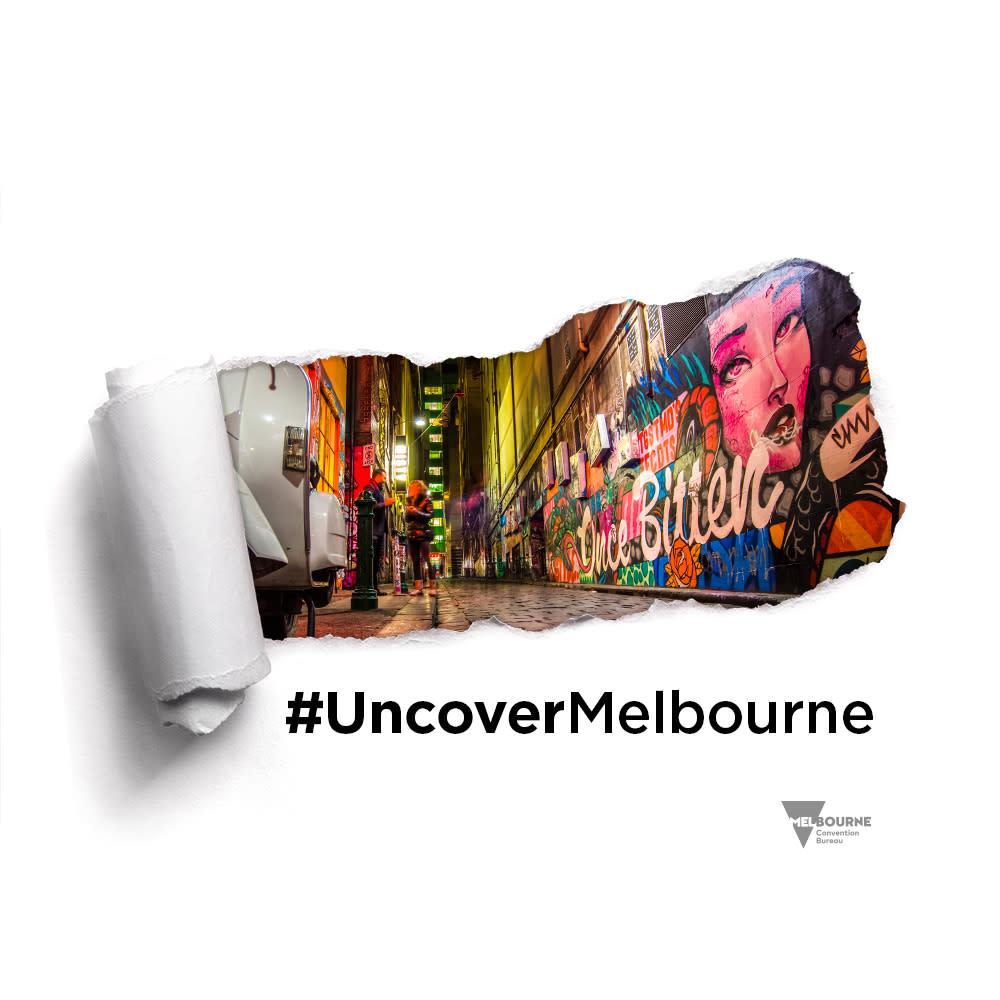 Participants are encouraged to get inspired and upload what they have uncovered in Melbourne, and demonstrate this in their own unique and creative way on social media.
During AIME there are ample opportunities to discover all that Melbourne has to offer as a business events destination, especially as part the Uncover Melbourne program developed by MCB, including City Touring Experiences, The Magic of Flemington Hosted Buyer Welcome, The Charm of the Yarra Breakfast, Melbourne Edge Event Series or AIME Welcome Event.
Additionally, participants will have moments of discovery in their general travels through Melbourne during AIME. This could include anything such as a hidden CBD laneway, great coffee, friendly local face on the street, a regional wine, a stunning tree lined street or public artwork. The options for discovery are limitless, so whatever or where ever it is, MCB is encouraging AIME attendees to snap and share it.
Prizes will be awarded throughout AIME for the most creative entries. To be eligible to win entries need to include the #UncoverMelbourne hashtag and entrants must have a public profile.
Entries will be digitally displayed on the Melbourne Stand thanks to MCB partner, Enplug. Large screens set up at the entrance of the Melbourne Stand will feature a live stream of entries, as well as other social media content uploaded by hosted buyers and visitors during AIME. It's a great opportunity to see your photos bought to life!
Director of SDP Media, Sam D'Agostino, has provided the following tips for taking likeable photos:
• Find the light - make sure the subject is facing a light source, as opposed to the light coming from behind. This will provide a better quality photo. Lighter images are statistically more likeable than darker images.
• Keep it simple - have one subject as the focus and keep it simple.
• Focus - make sure a photo is in focus and don't use the front camera on a phone to take the image. Tap the screen on your phone where you want the camera to focus and it will adjust the cameras focus.
• Create shareable images - take photos that your audience will want share and that tell a story.
• Tone and Texture - play around with textures and colours. One dominant colour helps the image stand out (blue is a winner) and textures create a more interesting image.
• Captions - your caption is as important as your picture. Tell us the story and keep it short, sharp and concise.
• Have fun - experiment, try new things and most importantly have fun with it!
The competition closes on 24 February 2017. Entries will be accepted on Twitter, Instagram and Facebook.
All AIME attendees are encouraged to follow Melbourne Convention Bureau on Instagram @Melbourneconventionbureau and Twitter @Melbconventions for inspiration.


#UncoverMelbourne - TERMS AND CONDITIONS
1. This is a game of skill. Chance plays no part in determining the winner. Each entry will be
individually judged, based upon individual creative merit. All entries must be an independent
creation by the entrant and free of any claims that they infringe any third-party rights.
2. Melbourne Convention Bureau is the promoter of this competition.
3. Employees of the promoter are ineligible to enter the competition, as are their immediate families.
4. Only registered Asia Pacific Incentive and Meetings Expo (AIME) attendees are eligible to win.
5. To enter, entrants must have a public profile on Facebook, Instagram and Twitter, and upload an image with the hashtag #UncoverMelbourne on any or all social channels outlined. The promoter reserves the right to verify the validity of entries. There is no limit on the number of entries an individual can post.
6. Entrants are responsible for any and all expenses that they may incur in entering the competition, and they will not be reimbursed regardless of whether they win or not.
7. The judges reserve the right to disqualify any entrant submitting an entry which, in the opinion
of the judges, includes objectionable content, including but not limited to profanity, nudity,
potentially insulting, scandalous, inflammatory or defamatory images or language. The judges' decision will be final and no correspondence will be entered into.
8. Winners of the competition must be 18 years old and over.
9. The promoter reserves the right to withdraw or amend the competition as necessary due to
circumstances outside its control.
10. The prize is non-transferable and non-redeemable for cash. Any attempt to resell or auction all or any part of this prize will result in an immediate cancellation of the prize. In the event that, for any reason whatsoever, a winner does not take the prize at the time stipulated by the promoter then that element of the prize will be forfeited by the winner and cash will not be awarded in lieu of that element of the prize.
11. Once the prize winners have been confirmed by Melbourne Convention Bureau, the prizes are deemed non-transferrable.
12. Four Visa pre-paid cards to the value of $250 each will be awarded as prizes.
13. The promoter shall not be liable for any loss or damage whatsoever which is suffered
(including, but not limited to, indirect or consequential loss) or for personal injury which is
suffered or sustained, in connection with the prize, except for any liability which cannot be
excluded by laws.
14. Promotion commences 6 February 2017. Entries close 5pm AESTD 24 February 2017.
15. By entering the competition, all entrants will be deemed to have accepted and agreed to be
bound by these rules.
16. The promoter is the Melbourne Convention Bureau, 28/727 Collins St, Melbourne, Victoria 3008. ABN 62 072 324 933.
17. Independent financial advice should be sought if tax implications may arise as a result of accepting the prize.
18. In the event that for any reason whatsoever a winner does not accept the prize at the time stipulated by Melbourne Convention Bureau then the prize will be forfeited by the winner and cash will not be awarded in lieu of the prize.
19. Entries will be judged from 25 February - 28 February 2017, and prizes will be awarded post this time.
20. The winners will be notified by private messenger and then confirmed in writing by email.
21. If Melbourne Convention Bureau is unable to contact the winner(s) within 30 days of the competition and Melbourne Convention Bureau has made every effort to contact them with the information provided by the entrant(s) then Melbourne Convention Bureau will award the prize to another valid entrant(s).


- ENDS -
AIME is where meetings, events and incentives industry decision makers meet for business adventures across Australia, Asia-Pacific and the rest of the globe. AIME is owned by the Melbourne Convention Bureau (MCB), a business development organisation, with its core function to secure international and national conferences, incentive travel reward programs and other business events for the Australian state of Victoria.
Asia-Pacific Incentives and Meetings Expo (AIME)
21-22 February 2017
Melbourne Convention and Exhibition Centre
www.aime.com.au